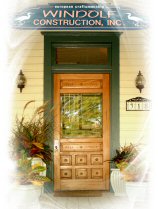 European Craftsmanship...Coastal Style
The team of Reinhard (Bob) and Delores Windolf has been a force in general construction and quality since 1983, and a major influence in coastal construction since 1993.
During this time, Bob Windolf has brought European craftsmanship and Old Florida coastal styling to Port St. Joe and the surrounding panhandle.
Serving the area from Mexico Beach to St. George Island, Windolf Construction offers its clients comprehensive service, from concept to completion, in residential, commercial, new construction, and renovation.
Windolf Construction brings attention to the detail and quality of new residential and commercial construction. This results in homes and businesses that not only stand the test of time and weather, but blend into communities all along the coastline, while securing for themselves a recognized place in regional architecture.
Please feel free to browse our site. You'll find more information about Windolf Construction in the "About Us" section. Visit the "Projects" area to view a gallery of our completed projects. Clients can view construction progress in the "Client Area." "Contact Us" links you to a page containing our contact information, including a way to reach us via email.